"It's just another ordinary miracle today. Life is like a gift they say. Wrapped up for you everyday."

From "Ordinary Miracle" by Sarah McLachlan.
Saving Ala'a
At three years of age, Ala'a was found abandoned in the streets of Baghdad afflicted with Cerebral Palsy a condition where the mind is sound, but the body cannot respond normally.
When Capt. Scott Southworth and his Military Police unit visited the Mother Teresa Orphanage in Baghdad, a miracle occurred for at least one Iraqi child. Ala'a dragged his body alongside Capt. Southworth and a bond began which brought Ala'a new hope and enriched the life of Capt. Southworth.
Here's a part of the story, but please
read it all
:
GI saves Iraqi boy in long-shot adoption
By CARRIE ANTLFINGER
Associated Press
Dec 23, 2007

...Over the next 10 months, the unit returned to the orphanage again and again. The soldiers would race kids in their wheelchairs, sit them in Humvees and help the sisters feed them.

To Southworth, Ala'a was like a little brother. But Ala'a — who had longed for a soldier to rescue him — secretly began referring to Southworth as "Baba," Arabic for "Daddy."

Then, around Christmas, a sister told Southworth that Ala'a was getting too big. He would have to move to a government-run facility within a year.

"Best case scenario was that he would stare at a blank wall for the rest of his life," Southworth said.

To this day, he recalls the moment when he resolved that that would not happen.

"I'll adopt him," he said.
Adopting a handicapped child from a foreign country who requires lifelong care is not an easy committment to make and even harder to fulfill. But Capt. Southworth persisted.
Southworth's decision was cemented in spring 2004, while he and his comrades watched Mel Gibson's film, "The Passion of the Christ." Jesus Christ's sacrifice moved him. He imagined meeting Christ and Ala'a in heaven, where Ala'a asked: "Baba, why didn't you ever come back to get me?"

"Everything that I came up with as a response I felt ashamed. I wouldn't want to stand in the presence of Jesus and Ala'a and say those things to him."

And so, in his last weeks in Iraq, Southworth got approval from Iraq's Minister of Labor to take Ala'a to the United States for medical care.
...
A local doctor, a cerebral palsy expert, a Minneapolis hospital, all said they would provide Ala'a free care. Other letters of support came from a minister, the school district, the lieutenant governor, a congressman, chaplain, a sister at the orphanage and an Iraqi doctor.

"We crossed political boundaries. We crossed religious boundaries. There was just a massive effort — all on behalf of this little boy who desperately needed people to actually take some action and not just feel sorry for him," Southworth says.

He mailed the packet on Dec. 16, 2004, to the Department of Homeland Security.

On New Year's Eve, his cell phone rang. It was Ala'a.

"What are you doing?" Scott asked him.

"I was praying,'" Ala'a responded.

"Well, what were you praying for?"

"I prayed that you would come to take me to America," Ala'a said.

Southworth almost dropped the phone. Ala'a knew nothing of his efforts, and he couldn't tell him yet for fear that the boy might inadvertently tell the wrong person, upending the delicate process.
...
Ala'a's English has improved and he loves music and school, math and reading especially. He gets mad when snow keeps him home, even though it's his second favorite thing, after his father.

At first, he didn't want to talk about Iraq; he would grow angry when someone tried to talk to him in Arabic. But in the fall of 2006, Scott showed Ala'a's classmates an Arabic version of "Sesame Street" and boasted how Ala'a knew two languages and could teach them.

Soon he was teaching his aide and his grandmother, LaVone.

LaVone is a fixture in Ala'a's life, supporting her son as he juggles his career and fatherhood. One day, she asked Ala'a if he missed his friends in Iraq.

Would he like to visit them?

Big tears filled his eyes.

"Well, honey, what's the matter?" asked LaVone.

"Oh, no, Grandma. No. Baba says that I can come to live with him forever," he pleaded.

"Oh, no, no," he grandmother said, crying as well. "We would never take you back and leave you there forever. We want you to be Baba's boy forever."
...
But Ala'a — who picked out his own name, which means to be near God — knows he's where he belongs. Southworth always says Ala'a picked him, not the other way around. They were brought together, Southworth believes, by a "web of miracles."

Ala'a likes to sing Sarah McLachlan's song, "Ordinary Miracle," from "Charlotte's Web," one of his favorite movies. His head and body lean to one side as he sings off-key.
Ordinary Miracle
Sarah McLachlan
(
music video here
)
It's not that unusual
When everything is beautiful.
It's just another ordinary miracle today.
The sky knows when its time to snow,
Don't need to teach a seed to grow.
It's just another ordinary miracle today.
Life is like a gift they say
Wrapped up for you everyday;
Open up and find a way
To give some of your own.
Isn't it remarkable?
Like every time a rain drop falls,
It's just another ordinary miracle today.
Birds in winter have their fling
But always make it home by spring.
It's just another ordinary miracle today.
When you wake up everyday
Please don't throw your dreams away;
Hold them close to your heart
Cause we're all a part
Of the ordinary miracle.
Ordinary miracle
Do you want to see a miracle?
ohh ohh ohh, ohhh ohh ohh...
It seems so exceptional
That things just work out after all.
It's just another ordinary miracle today.
Sun comes up and shines so bright
And disappears again at night.
It's just another ordinary miracle today.
ohh ohh ohh, ohh ohhh ohh...
It's just another ordinary miracle today.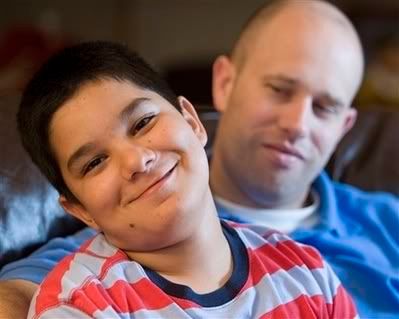 Ala'a and "Baba" home in Wisconsin. Just another ordinary miracle brought about by extraordinary men and women in the U.S. military.
Thank you
Cajun Tiger
and
Wordsmith
for bringing this Christmas miracle to our attention!